*Give Our Gift Certificates For a Birthday, Christmas, Honeymoon or Anniversary*
Campfire Storytelling (Year Around)
Professional Storyteller Lee Haile Entertains with Cowboy Poetry, Singing, some Tall & Funny Tales about People, Critters & Cowboys. Lee has Performed for many years at Venues & Festivals such as San Antonio's Folklife Festival & even Sea World of Texas!
For True Pioneer Stories listen to Lora B. Garrison as she Brings to Life the every day Adventures of our Pioneer Ancestors. She has a Book in the works- "Texas Stompin Grounds". Her Book, like her Storytelling is a Collection of Stories & Oral Histories she recorded back in the 1970's from the Old Timers that still lived in the Hill Country.
Champion Big Tree Tour (Year Around)
Our area has 6 Past State Champions, 11 State Champions, & 5 National Champion Trees. Plus the Largest Tree in Texas and the Oldest Tree in Texas. Most of these Giant Trees are on Private Properties. You can see some of them on the Big Tree Tour with our guides.
Birding / Nature Tours (Year Around)
Driving to and Hiking on Private Hill Country Ranches and State Parks, along the beautiful Frio and Sabinal River Valleys. Our Area is a World-Class Birding and Wildlife Viewing Destination. One of the Best Places in Texas to See the Golden-cheeked Warbler, Black-capped Vireo & All 3 King-fisher species.
Bluebird Nestbox/ Birding / Nature Tours (March thru June)
Your Adventure takes place on our 250 acre Ranch with hills and valleys. Our Ranch Birding list boosts 123 species of birds. Our Bluebird Trail has 30 nestboxes, 6 viewing stations with benches where you will see small cavity nesters. Including; Eastern Bluebirds, Black-crested Titmouse, Bewick's Wren, Ash-throated Flycatcher, and Carolina Chickadee with nests, eggs or baby birds. You will peek into nestboxes, and learn how to tell the difference in nests, eggs and fledgling species. On our RanchOnly - For handicapped or those that prefer to ride we have an open touring vehicle which can seat 5 people plus the Guide.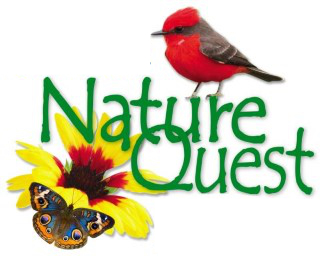 Annual Nature Quest
Birds, Bats, Butterflies & More!
Best Birding/Nature Festival in Central Texas.
Field-trips include – Birds, Bats, Butterflies, Wildflowers, Champion Big Trees,
Programs - Birding in India, Wolves, Bluebirds,
Hill Country Wildflowers, Nature Travel, Monarch Migration, Medicinal Plants, Dark Skies, Plus Hummingbird & Bird Banding.
Click here to go to the site
Nature By Kayak
(Mar. thru Sept.)
Travel down the Beautiful Clear Frio River on a 3 or 4 hour Nature Tour By Kayak. These Kayak Tours are dependant upon River & Weather Conditions. We do not provide Kayaks; but can tell you where to get them, and help you haul them.
Frio Bat Flight Tour (Mar. thru Sept.)
This is a maternity colony; the Bats Migrate here from Mexico for the Spring & Summer to give birth & raise their Pups.
This is the 2nd Largest Bat Population in the World ~ But, it's the Largest Bat Population in the World that's Open to the Public. Be Amazed As You Watch 10 to 12 Million Mexican free-tailed Bats Emerge From The Frio Cave Into the Evening Sky. You will also see Hawks & Falcons Catching the Bats in Mid Air for their Evening Meal.
An Awesome Experience of a Lifetime! Bat Flight is not located at our Nature Center. Click here for Schedule & Map
Hill Country Adventures, Nature Center & Office, shown below, is Located on FM 1050 10 miles west of Utopia & 4.5 miles east of Garner State Park. Our Tours lead you around Concan, Leakey, Rio Frio, Uvalde, Vanderpool & Utopia Texas; a Unique Region of the Edwards Plateau which includes Lost Maples State Natural Area & Garner State Park. Approximately 90 miles (1.5 hours) N.W. of San Antonio, Texas.